Robin of Sherwood : The Reward
© Vanessa Greatorex , 2005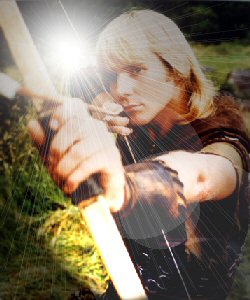 From the writer of The Reward Ö
Many thanks for your fabulous reaction to news of my Robin of Sherwood script , The Reward . The response has been absolutely tremendous , with messages of support from both cast members and viewers in Belgium , Britain , Canada , France , Germany , Holland , Israel , Lithuania , Mexico , New Zealand , Poland , Russia and the United States .
And it looks as though your enthusiasm has helped to nudge TV networks in the right direction . Because now , after twenty years , Richard Carpenter and Paul Knight - the creator and original producer of Robin of Sherwood - are closer than ever to getting a new RoS adventure on screen .
Their plans pretty much render my script obsolete . And do you know what ? I donít care .
I had a great time writing it . And now Iím anticipating an even better time watching a new RoS adventure written by the man whose visionary handling of the Robin Hood legend has captivated our hearts and minds for over two decades .
So thanks again for all your warmth and energy . Your response has been truly amazing and will never be forgotten . But now itís time to turn all spotlights back on Richard Carpenter , inspirational writer extraordinaire .
Yours with thanks ,

Vanessa Greatorex