Silver Arrow 2000
Photo Gallery



SA 2000 opening ceremony ...
Guest panel with Robert Addie and the late Terry Walsh ...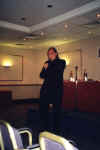 Steve Wilson giving his talk ...
Nikki , Marnie and myself at the autograph session ...

Posing with Robert and Terry ...

Me and Sven with the Sheriff of Nottingham , Nickolas Grace ...

Nickolas Grace does a quick pose before my camera ...

Me , Nikki and Marnie just before the banquet ...

Costume competition at the banquet ...

The youngest outlaw of the evening ...
Robert Addie at the auction ...
Me and Stuart Linden (Old Prisoner) at the banquet ...

Me and Anthony Valentine (Baron the Belleme) ...

Marnie stuck in the mud at Leigh Woods ...
Wells Cathedral , a beautifull place to visit ...

Saskia , myself and Nikki posing on the famous
white steps at Wells Cathedral , used in the RoS
episode "Robin Hood and the Sorcerer" ...
Is it Michael Praed ?! No , it's Dan posing as
Robin of Locksley on the steps at Wells Cathedral ...

At the sunday disco ...
The gang's all here ... ;o)

The end of a great weekend ...
Saying our goodbye's and posing
at the hotel entrance , for a last snapshot ...